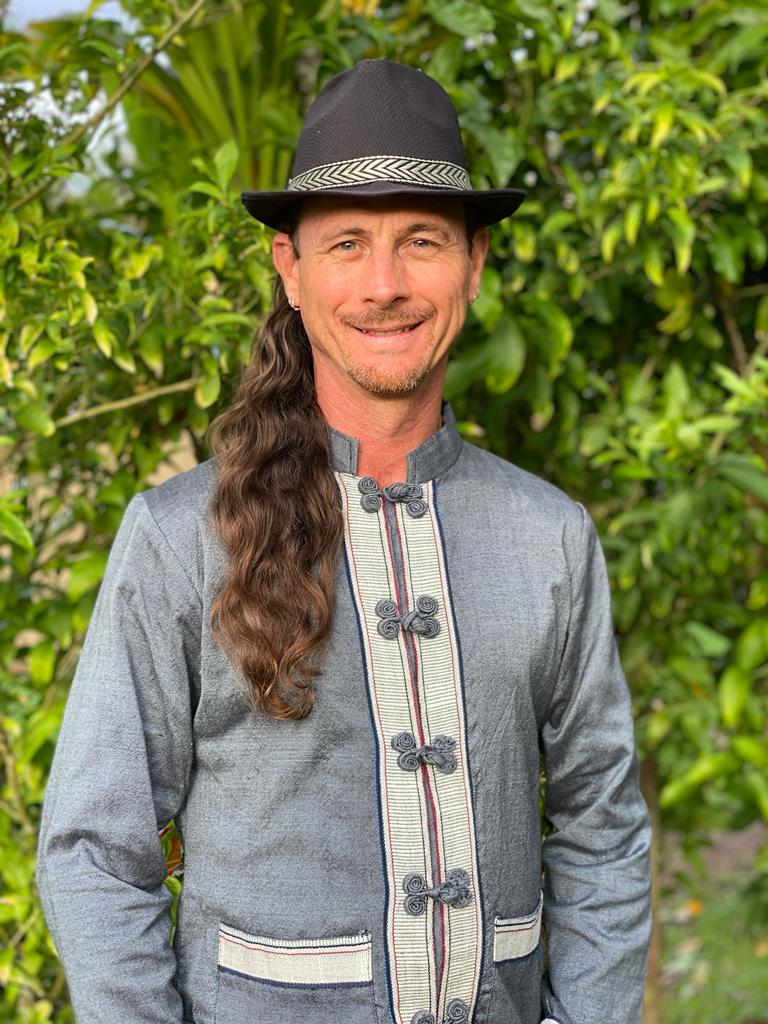 Founder of Maui Sol
Aloha! I'm Orius
Aloha, I'm Orius Morningstar, founder & formulator of Maui Sol Botanicals. Growing up in Hawai'i has given me a great appreciation for nature and a deep respect for the natural world. I use this as inspiration for the basis of all my formulations, creating pure & natural products that are safe for humans and the environment.
Service was wonderful. It came in 3 days! I swim at least 4-6x a week, either at the beach or in the pool and I can really see and feel the differences whenever I use this serum before getting into the water. The hair serum smells lovely, like vanilla sandalwood with a hint of rosemary. Thank you very much for the wonderful product!
I panic a bit when I am running low on this fabulous serum. I am addicted and extremely pleased with the results and improvement of my aging skin. I highly recommend this pure combination of island oils to anyone seeking the dream facial skin serum without chemicals. It is truly a pleasure doing business with Orius Morningstar.
My mom got this on her Maui trip and let me try it. This stuff is magic. I live in a very cold and dry environment and suffer from very dry skin despite the other oils and lotions and hydrocortisone creams I regularly have to use. I have been using this oil for about 6 weeks and the difference is amazing. I bought some off of etsy to ensure that I will not run out. If you are on the fence about giving it a try, just buy it! It will not disappoint. And shipping was really fast. I got it in less than a week.
Amazing results in only a couple of weeks of using these products…. I purchased the Skin Serum, Sun Care Formula, and Hair Serum. The skin serums are absorbed unbelievably well and leave the skin looking & feeling totally nourished, lustrous and silky smooth. Areas of sun damage have faded remarkably in such a short period of time. The Hair Serum gives my hair amazing texture and shine!! Thank you Orius for producing such beautiful products.
I have been through countless bottles of this serum and can't recommend it enough! It is super silky without being too oily, absorbs well, and nourishes my skin deeply. The oils in this blend are great quality and it smells divine! (Unlike so many other facial products, it has NO synthetic fragrances and ALL natural ingredients! ... which is sadly hard to find these days.) I've also purchased this as a gift for girlfriends and they always love it. 🙂
Christi
I have always had very delicate, sensitive skin. Last summer I endured the onslaught of chemo and the havoc it wrecked on my fragile, mature skin. A few months ago I bought Maui Sol Botanicals "Super Skin Serum" and have used it once or twice a day regularly since then. My skin is recovering beautifully and dark spots and wrinkles are fading. My skin is smoothing and looks so healthy. I put a drop on four fingertips, touch my fingertips together and lightly massage the light oil into my skin. It absorbs within minutes. It moisturizes too. I highly recommend this lovely product. In fact each product I have tried is wonderful, including the Auric Cleanse Spray, Hawaiian Sandalwood, and Amber Tree natural perfume.
While enjoying a day at Hamoa Beach on Maui, I had a nasty fall into lava rock along the side of a trail. The left side of my face was essentially scraped off. Orius gave me a bottle of Maui Sol's Super Skin Serum. Within one week all scrapes were healing. Within 2 weeks all scabs were healing. Within 3 weeks healthy new skin began to grow. Within 4 weeks most scabs healed. Within 5 weeks pink new skin growing in. Within 6 weeks my face was almost healed, with no scarring!!! Orius is a master, who formulates with magic and love!!!!
Maui Sol's Super Skin Serum is an absolute necessity to nourish, protect, and repair my sun-soaked skin. After a day of surfing, there's nothing better to restore my skin's hydration and luminosity. I use it all over my face and décolletage every morning and evening -- it has truly become an indispensable part of my skincare routine."
Featured Products
Below is a collection of our current featured products and some of our personal favorites.